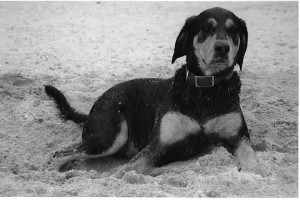 13.5 years ago I read an article in Martha Stewart Living about the role dogs play in healing grieving individuals.  My boyfriend (now husband) had just lost his brother unexpectedly and he was experiencing a deep sense of loss.  I had just moved in with him after a short courtship when this occurred, and it rocked his world. One minute happily walking to lunch and the next collapsing from a horrific phone call. In an instance he was thrown off a cliff into a pit of sorrow.  Watching someone I love get consumed into this spiral of grief was heartbreaking, and I felt helpless.
As a 23 year old who had never experienced a death like this, I read, researched and discussed with people on how best to help him during this period of anguish.  Unfortunately, grief is necessary.  I could (and can) never take that pain away from him. My role was to be present and patient.  Then I came across that article in of all places, Living.
Dogs have proven to be very healing to the human emotion.  What a dog can offer that a human cannot is love without judgment, and thus a human has less inhibitions when grieving in front of a dog.  Dogs don't offer advice or words of comfort.  They listen at a time when that may be what a grief-stricken person needs most.  After the Newtown shootings, dogs were used to "counsel" and heal students who were victims of the nightmarish event. Organizations such as Warrior Canine Connection unite dogs with veterans suffering from PTSD.  Developing a bond with a dog has been shown to release oxytocin, nicknamed the hug hormone, in humans resulting in feelings of trust and pleasure.
Being a dog lover, I read that aforementioned magazine article and thought this is just what he needs…what we need.  Something to love and to care for and something that will love us unconditionally.  My husband was hesitant.  After having just lost someone so close, the idea of bringing another thing to love into his life seemed unappealing and worrisome.
I played my card…I needed this dog. I need something to distract me.  After a couple of months, of shelter searching I found him, and fell in love immediately.  I filled out the adoption papers and then that night told my husband.  He saw my desperation and trusted that maybe it could benefit us both and heck did it.
We adopted that adorable dog, named him "the" Governor and after 13 amazing years we are grieving him.