Another Gals' Weekend on the books with my best college pals.  There can be conflicting emotions when it comes to a weekend getaway with friends (do men have this problem?). Between the logistics of coordinating a weekend (finding a "good time", getting extra kid assistance…) and the guilt of leaving the fam it can feel daunting to set aside time for old friends.  YET I cannot stress enough how important it is. We have now made it an annual trip (see my post on our trip to Austin) and it's incredibly therapeutic. It doesn't have to be elaborate or extravagant but rather just an escape from the everyday rhythm of life with people that you don't often see but love so dearly.
The three of us are traveling from different areas of the country so we try to mix up the location.  This year we ventured to Miami.  A spot none of us have visited save for the airport. We do like to indulge a bit on these vacas – a nice hotel since we all share one room and beautiful dinners out.
Here's the rundown on our itinerary:
 Faena We stayed at this lovely hotel with phenomenal service including a room butler. The spa was gorgeous; no treatments necessary.  We used the wet lounge/hammam and that was all we needed for a good detox.                        
The Standard We dined at their bayside restaurant for healthier fare and enjoyed the spa; although a little rundown when compared to Faena.  The Standard has a cool vibe especially for younger folk. We enjoyed a post-dinner fireside chat.  
3. Bazaar by José Andrés: Very fun and delicious tapas restaurant with Latin and Asian flavors. Our croquetas were served in a shoe.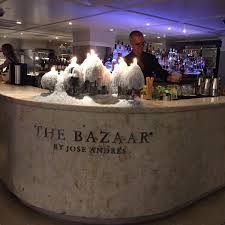 4. Los Fuegos.  If you watch Chef's Table on Netflix you may have seen the episode with Francis Mallman – beret, funky glasses.  We had the privilege of enjoying his delish fiery food while he was in the kitchen!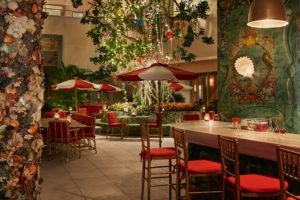 5. Biking via citi Bike Miami: Awesome way to scope out South Beach.  We rode along the boardwalk from our hotel to the tip of South Beach, ate lunch, and biked back along the water.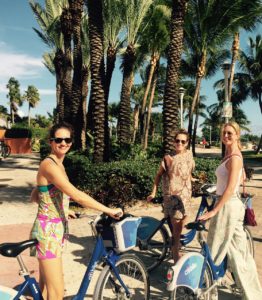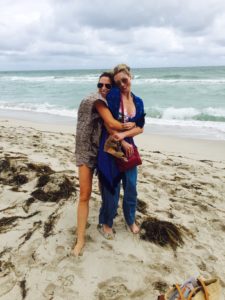 6. Ice Skating at Basement: A skating rink in a nightclub – sign me up!  Located in the Edition Hotel, Basement has a bowling alley and an ice skating rink for those looking for an alternative to sitting and sipping.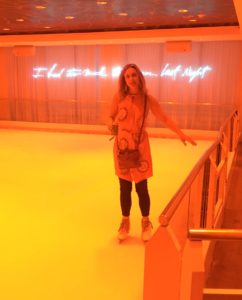 An Aside: Is there a human capable of visiting Miami without harkening back to Will Smith's song?