oh if only the answer was so simple as yay or nay.  It seems to truly depend on one's life circumstances, which sounds a bit dramatic for a meal delivery service but it's pricey enough that I needed to properly consider the value added to our lives.
In a nutshell, we gave it the old college try and decided Blue Apron was not for us.  Here is my rundown on what worked and didn't work for us: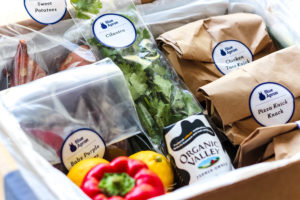 The Yays:
No thinking or planning: Anytime I have the option not to think I will seize it.  My husband and I do a lot of  weekly meal planning so this definitely took a task off our ToDo list, which I appreciate.
No food waste. I am guilty of throwing away food. There, I said it.  I overestimate portions and despite my best intentions, do not eat enough leftovers.  On top of the leftovers, consider all the sauces, dressings, etc… inside the pantry. With Blue Apron these are portioned out to the exact amount.  Say goodbye to opened hoisin jars wasting away in the fridge.
Tastes great: Obviously the most important consideration.  Every meal I made was delicious, even the ones I was suspicious about.  Not every meal was successful with the kids (oh did I mention they were eating this too – that makes a big difference).  However, the kids tried everything, and it got me out of comfort zone meals. Especially for my daughter who is an adventurous eater, she was able to explore a bit more culinary diversity.
The Nays
Packaging is a semi-nay.  Many meals I make probably involve some level of packaging; whether it be a box of pasta or a bag of salad; but not nearly at the level of BA packaging. In fact at times it was laughable. Imagine one lone egg in a custom carton. This guy has a hilarious take on it.   On the flip side there is less food waste so it nearly nets out.
Time: This is huge and was the ultimate determinant in canceling the subscription.  The simplest meals were made complicated. When sloppy joes took me 40 minutes I considered throwing the box out the window.
I cook. For the last decade I have made nightly meals, some more elaborate than others. I've developed shortcuts and processes to streamline the operation so when confronted with a situation like the gourmet sloppy joes or a 30 minute pizza, I'm going to be mad.  Note: when you have a toddler, all recipe times need to be doubled during the witching hour.  So if a recipe takes me 1 hour and the final product is a pizza then it's not going be good for my relationship with Blue Apron.
Here is who will like it:
Someone who has some extra time. I could see my husband and I really enjoying this in our 20's; before kids when we loved cooking together.  Now it's all git'er done.
Someone who wants to learn how to cook.  This is a great method to gain experience. There's not an overwhelming need to sift through recipes and figure out what will work. Start with 2 meals a week.  Ingredients and instructions presented to you. You just find the time.
There are so many delivery services, maybe another one will suit our needs better.  My sister is currently trying Hello Fresh.  I'm waiting for her review and will update you.