It's March and technically spring.  We've resurfaced from our hibernation and emerged from the thick layers of snow only to discover that the remaining snow is less a delicate mille feuille and more a mount filth; not exactly a bucolic spring scene.  However, our spirits are high as is the wee ones' energy. We are eagerly awaiting warmer temperatures and long afternoons on the porch.  Instead of waiting out the snow and rain,  mix-up the weekend activities to get everyone out of the house and end the cabin fever.
1. Indoor Climbing
We recently discovered Rock On Adventure, an indoor rock climbing facility that includes other adventurous activities for kids. My guys loved it and were exhausted by the end of our climbing…as were we.  The best part was how proud they both were of their accomplishment; stepping back and acknowledging their feat of how high they climbed.
2. Indoor Jumping
Another easy way to expend that energy is bouncing.  Skyzone is a sea of trampolines and thus an outrageously good time.  That's probably why Phil Dunphy is such a happy guy.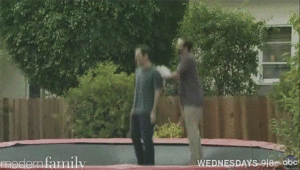 Alternate your time between climbing and jumping, and you will be ready for summer weather in no time.  Beats the treadmill.
3. Museum Visits
A museum may not seem like the venue for the intrepid explorer (or pent-up children) but au contraire, it's ripe for movement and adventure.  A recent trip to the Museum of Fine Arts in Boston proved to be thrilling!  The Art Cart supplied each youngster with a canvas tote of art supplies and gallery scavenger hunts. The walking alone is exhausting for little feet and it offers a more sophisticated alternative for the grown-ups.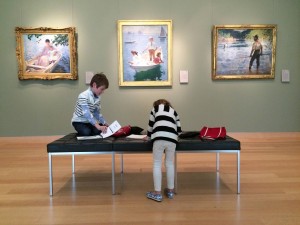 Now these experiences all cost money, but no more than a ticket and snack at the movie theater and with much happier, tired kids and saner parents at the end of the day.
Of course for a free indoor option, there's always yoga!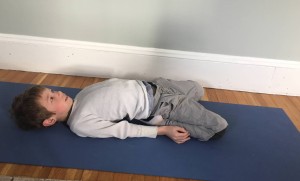 If you have the ceiling height, this would be amazing.