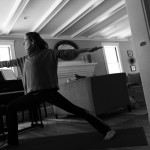 One of my favorite aspects of yoga is the flexibility that it allows….pun very much intended. Yoga can be practiced anywhere, anytime.
The value of a teacher's guidance cannot be replaced, but it's not always possible for a daily practice. The expense of yoga classes, lack of childcare, and limited schedules can impede that flexibility.
Take advantage of yoga's versatility and integrate a home practice with a studio one (we all need professional tune-ups periodically).  It is easier to establish than you think!
First let's discuss the many advantages.
1. Time:  You choose the best time that fits your schedule and the length of time you can dedicate to a session; plus no commute.
2. Money: A home practice is free!
3. Personalization:  You dictate the parameters and create a sequence customized to your needs; restorative poses, hip openers, twists – it's up to you!
4. Privacy: If the image of collapsing onto your neighbor while working on inversions  haunts you, then practice them at home first.   You may fall on our face while working on your crow pose, but  you can have as many do-overs as you want and can recover as long as you need.  One caveat: be wise, practice safely. Challenging poses often carry more risks so do the appropriate preparatory poses, and when your body says no, please listen.
With the marvelous advantages come some obstacles.  Here are tips to jump over these hurdles and cultivate your home practice.
1. Independence Freedom to create your own class may sound daunting away from the nurturing tutelage of an instructor.  If an educated, guiding voice is comforting to you, try the many online options.  Yogaglo and Gaiam offer an extensive selection of yoga classes with top notch teachers.  For less than $20/month (the price for a drop-in class at a studio) you have unlimited access to hundreds of classes. You can also mimic a class sequence that you recently experienced or stick to your foundation poses and sun salutations. Don't forget to include savasana!
2. Space:  Find a scrap of floor as long as your mat and as wide as your arm span.   If you enjoy a little ambiance, include candles and music.  Ideally invest in a mat, 2 blocks and a strap. That's all you need!
3. Motivation:  Choose the best time of day for you and allot a reasonable amount of time.  It doesn't have to be 90 minutes to be considered a legit session.  The key to a solid yoga practice is consistency. A shorter daily practice is better than a monthly 90 minute class.  This has been the biggest challenge for myself so i will say it again, an abbreviated practice is better than no practice.  If you need a little social pressure to stay committed, get a friend to join you.  Just like a running buddy, a yoga buddy provides mutual motivation.
4. Distractions: The ultimate obstacle is the home distractions. In a class you're not tempted to answer a text or straighten up the living room mid-session.  Thus, it takes a greater discipline to focus.  Ignore the laundry basket and silence the phone.  Make a commitment.to yourself that this is your yoga time.
At the end of each session, express gratitude to yourself for showing up to your mat.  A home practice takes discipline, dedication, and courage.